Serving San Marcos and all of Central Texas since 1962.
Pennington's Cakes bakery goes above and beyond the average cake shop. Our cakes are artfully decorated, memorably presented, and unbelievably tasty. Our customers travel from all across Central Texas for the original Pennington's Cake, not to mention our legendary white wedding cake. We bake our cakes fresh to order, using only the highest quality ingredients. Join our family of satisfied customers!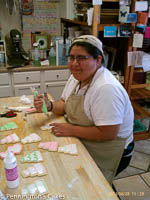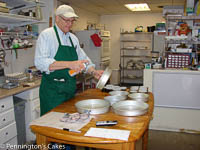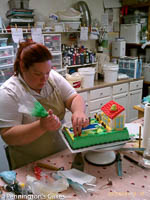 When you come to Pennington's bakery, the ambience of the shop is a cross between your typical living room/kitchen and an Italian sweets shop outside Naples. You immediately get a sense of being at home. Greens and browns are the color theme (sort of like Italian ice cream), with a hint of the same buttercream color you'll find for some of the icings of the cakes. If you look around you'll see that there are a lot of tools. You'll get a sense that creating a wedding or birthday cake is definitely an art.
We look forward to meeting you at Pennington's cakes, and hope to make you feel at home the moment you walk through the door!